SEP 24 2013
GRAMMY AND ACADEMY AWARD WINNER JENNIFER HUDSON RELEASES BRAND NEW SINGLE
"I CAN'T DESCRIBE (THE WAY I FEEL)" FEATURING T.I., PRODUCED BY PHARRELL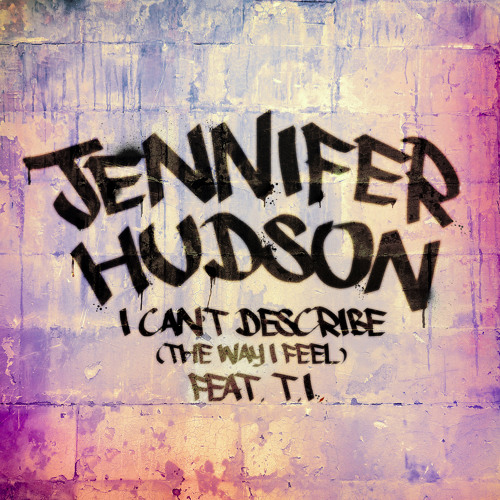 LISTEN TO SONG AT:
https://soundcloud.com/iamjhud/jennifer-hudson-i-cant/s-XGzGq
AVAILABLE AT SELECT DIGITAL RETAILERS TODAY
[New York, NY – September 24, 2013] Grammy and Academy Award winner Jennifer Hudson taps into the feel good music of the 80's with her brand new single "I Can't Describe (The Way I Feel)" featuring T.I. Written and produced by Pharrell, "I Can't Describe (The Way I Feel)" is currently available at select digital retailers.
"Working with a visionary like Pharrell was a really special experience for me," says Jennifer. "He is one of the most talented musicians of our time and I couldn't be more proud of what we did together." She goes on to say, "I'm so thrilled to be sharing this song with everyone. For me, it's all about making people feel good and showing them who I am as an artist. I make music to feed the soul and I think this song will do that for a lot of people."
Continuing his hot streak with the disco influenced track, über producer Pharrell commented via Twitter: "I love when artists jump out the window for feel good music."
In addition to Pharrell, Hudson has been in the studio collaborating with Timbaland, Salaam Remi and others for her third album, slated for release this winter on RCA Records.
Academy Award-winning actress and Grammy Award-winning recording artist Jennifer Hudson is an extraordinary talent. Hudson won an Academy Award for her role in "Dreamgirls," an adaptation of the Broadway musical. Her breakout film performance also garnered a Golden Globe Award, a Screen Actors Guild Award, a BAFTA and an NAACP Image Award. Additional film credits include "Sex and the City" the movie, "Secret Life of Bees," "Winnie Mandela," "The Inevitable Defeat of Mister and Pete," and "Black Nativity." Jennifer's 2008 debut self-titled certified Platinum album entered Billboard's Top 200 at No. 2 thus marking the biggest first week sales for an R&B female entry since 2004. The album was nominated for four Grammys and won for "Best R&B Album." In 2009, Hudson released her sophomore album, "I Remember Me" which debuted at No. 2 on Billboard's Top 200 and R&B Albums charts and has since been certified Gold in the U.S.